Visible Data 02
financing culture
research, workshop, exhibition
June - Dec, 2011
Bratislava, Slovakia
www.visibledata.info

ORGANIZATION AND PRODUCTION:

OPEN DESIGN STUDIO Bratislava,
Institute for Flexible Cultures
and Technologies – NAPON www.napon.org,
STGU www.stgu.pl,
MOMELINE www.momeline.hu
MEDIAMATIC www.mediamatic.net

FUNDING:
ECF-European Culture Foundation, International Visegrad Fund, Ministry of Culture of Slovak Republic, Ministry of Culture of Republic Serbia Royal Netherlands Embassy in Bratislava
MEDIA PARTNERS:
Radio FM, citylife.sk, designby.sk
CONCEPT

Project Visible Data in 2011 is the follow up of the one from 2010 initiated by NAPON and OPEN DESIGN STUDIO. Project Visible data_financing culture brings up together topics on visual communication, design, technology, new media and culture politics. By using efficient tools of information design and visualization language it makes budget for culture structures more visible. This year project spreads also to Hungary, Poland, Czech Republic and Netherlands.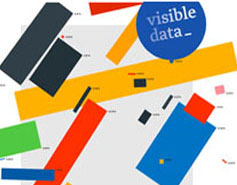 PROJECT INFO

The project uses examples of culture financing in Serbia, Slovakia, Netherlands, Poland, Hungary and Czech Republic. Comparative research through various information visualizations of different budget items and structures provides better insight into how micro and macro culture financial policies are functioning. Specific part of project shows with help of infographics also problematic issues in Slovakia as reflection of lack of culture policy discourse over last decades. In the project graphic designers, web designers, programmers, sociologists, culture policy researches, artists and theorists collaborate with the emphasis on critical thinking.
Download
WORKSHOP
Visible Data
Mentor: Daniel Gross (NL), Joris Maltha (NL) - Catalogtree www.catalogtree.nl
Nov 14 – 17, 2011
KC Dunaj, Bratislava, Slovakia

During these four days, participants were creating a series of posters on researched data with aim the of reflecting actual problems in financing of culture in Slovakia. Results are exhibited in Bratislava during the Visible Data Exhibition and will be presented in a form of guerilla campaignes for the public in the city of Bratislava during this exhibition./Participants: students and graphic designers from Slovakia, Hungary, Poland and Czech Rep.
PRESENTATION
Catalogtree
Presentated by Daniel Gross (NL),
Joris Maltha (NL,)
www.catalogtree.nl
Nov 15, 2011 / 5 pm
KC Dunaj, Bratislava, Slovakia

During this presentation, viewers (mostly graphic designers and cultural activists) could see the works of one of the best studios for information design. The discussion following the presentation was mostly about the using and misusing of data with controversial content.
EXHIBITION
VisibleData - financing culture
Dec 13, 2011 – Jan 31, 2012
Gallery PF01, Bratislava, Slovakia

Exhibition is reflecting the lack of interest in cultural policy in Slovakia. One part presents visualizations of various data showing actual problems in Slovakia regarding cultural policy. Other part presents visualizations of national, regional and municipal budgets for culture from 2011 in Slovakia, Serbia, Netherlands, Hungary, Poland and Czech Republic created by graphic designers from these countries. Exhibition is also presenting the project website, where visualizations are generated by choosing data sets and design, so can be used by the public.
WEBSITE
Visible Data
Authors: Martin Mistrík, Katarína Lukić Balážiková
Editors: Katarína Lukić Balážiková
www.visibledata.info

Main part of the project is website www.visibledata.info that contains interactive budget visualizations. Here visualizations are generated by choosing specific data sets and visualization design and can be used by the public. More design solutions and using more modules make the data more attractive and visible. Data about state, regional and municipal budgets for culture can be uploaded by any participated organizations or subject, website is free for non-commercial use.
THANKS TO

MEDIAMATIC: Jans Possel, Willem Velthoven, Igor Kolenic, Marco Hendriks, Abel van Gijlswijk, Niels Bouwman, Evelyn Austin
MOMELINE: Fatime Plótár
OPEN DESIGN STUDIO: Peter Kunder (Aliancia Fair Play), Martin Kurian (Transparency International Slovensko), Vladimir Kaštier, Igor Kolenič, Slávo Krekovič (Attract Art), Mária Rišková (13kubikov), Gabika Tydlitátová, Prof. Stanislav Stankoci akad. mal., Doc. Pavel Choma akad. mal., Mgr. art. Eva Brezinová, doc. Mgr. Anton Čierny, mim. prof., Tomáš Gál, Verejný podstavec
STGU: Academy of Fine Arts and Design in Katowice